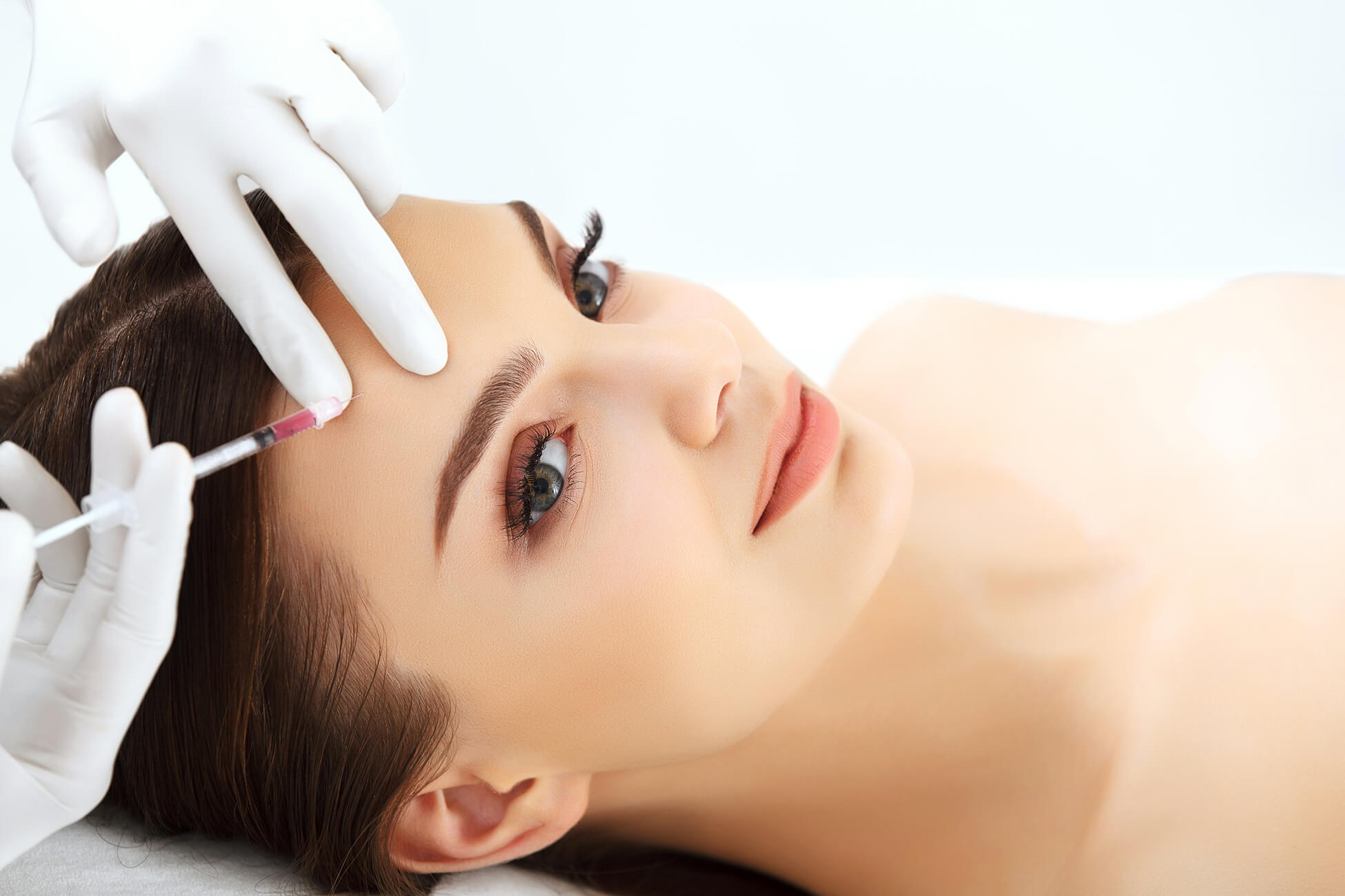 Here at SW Smiles we offer a selection of facial aesthetic treatments from our dental clinic in Battersea. Non surgical treatments from, using upto date products and techniques, can be used for a range of wrinkle elimination procedures. For immediate effects and a smoother, fresh appearance we can can help with the reduction of forehead wrinkles, smokers lines, neck lines, Hyperhidrosis (underarm Sweating) and more. View the full list of Facial Aesthetic treatments, form dermal fillers to botox, see below.
Botox
Botox is a fantastic treatment to soften and prevent lines and wrinkles from forming. Botox can be used as part of a treatment plan when treating the face as a whole. This page answers common questions about Botox (see below). 
What areas can be treated?
Botox can be used to smooth fine lines and wrinkles for the whole face giving a "facelift effect".
It can be used for the forehead, eyes, "smoker's lines" around the lips as well as on the chin and neck. Botox can be used to reduce jaw ache for patients/people who clench or brux and can be used to reduce a "gummy" smile by lowering the upper lip. Excessive sweating can also be treated, see information on Hyperhidrosis below.
How does Botox work?
Botox contains a highly purified protein, when injected in to the muscles the product relaxes the area and result in a reduced muscle activity. It therefore softens lines and wrinkles. Once injected Botox takes around 10-14 days to take effect and for the patient to see the optimal result. Using Botox early on can help to prevent wrinkles getting worse or becoming deeper. The longer you have Botox, the less frequent the treatment needs to be.
How many treatments will I need?
A treatment is done approximately every 3-4 months.
Will the treatment hurt?
Before Botox, a topical anaesthetic cream is used and then a very fine needle is used to inject the product and feels like little pricks on the skin. It can leave the skin a little red afterwards but the redness never lasts long and the patient is able to go back to work directly after treatment.
How much will Botox cost?
At SW Smiles, you can have a free Botox consultation. At this appointment, the dentist will look at your face, discuss the areas which need to be improved and if you decide to go ahead with the treatment, a face mapping is done to mark out the areas needing Botox. The cost depends on the number of areas that need to be treated. Between day 10 and day 14, a second appointment is booked to review and to "top up", if necessary, at no further charge.
How long do treatments take?
A Botox treatment takes approximately 30 minutes. Carrying out facial wrinkle elimination treatments over 2 visits, results in a more natural, fresh appearance.
In addition to the 3 areas listed above, at NW and SW Smiles we can also treat the lower face area. These include:
Bunny lines
Nasal flaring
Gummy smiles
Smokers lines
Neck lines
Please book in for your free consultation at NW or SW Smiles today!
Hyperhidrosis (underarm Sweating)
Does hyperhidrosis (underarm sweating) affect your life?
Everybody sweats, it's a normal part of how our bodies regulate temperature, however, people with hyperhidrosis produce sweat in amounts far greater than needed to control their temperature.
What are the causes of excessive underarm sweating?
Excessive underarm sweating is caused by overactivity of the eccrine gland. (Sweat gland)
Eccrine glands are found almost all over the body surface but they are concentrated on particular areas including under the armpits.
People with hyperhidrosis produce large volumes of sweat. This means that the affected areas may be constantly damp. This may make normal everyday activities more difficult to carry out and it can cause embarrassment at work or socially.
You are not alone if your life is affected by excessive sweating.
The good news is that effective treatments are available which could significantly improve your quality of life.At SW & NW Smiles we are able to go through the causes of excessive sweating and the possible treatment options which may suit your needs. Please see our pricelist for further information.
Dermal Fillers
A filler treatment is used to plump up lines and wrinkles around the face. When treated the patient gets an immediate result and more natural, smoother appearance.
What is a Dermal Filler?
Fillers are crystal clear gels based on hyaluronic acid, similar to the hyaluronic acid our body produces naturally. As hyaluronic acid is a non-animal based product there is minimal risk of allergic reactions and does not require skin tests.
What areas can be treated?
Dermal fillers are used to plump the lines around your nose, forehead and marionette lines and to enhance and contour your lips. Dermal Fillers are the non-surgical way to improve your appearance and eliminate age related wrinkles. Results from dermal fillers can be seen instantly and with minimal post-treatment side effects, you can get on with life with limited fuss.
How do Dermal Fillers work?
A filler is injected in to the line or wrinkle, cheeks or lips and immediately plumps up the area treated. There are various fillers that we offer at NW Smiles. All of our products are natural so do not require a skin test and are suitable for most patients.
How many Dermal Filler Treatments will I need?
Normally only one treatment is necessary to get the desired results. The amount of filler we inject depends on the patient and your expectations will be discussed at your consultation.
How long will the Dermal Filler last?
The effects of a filler can last between 6 months and 2 years depending on the type of product we use.
Will the treatment hurt?
As your dermal filler treatment is performed by a dentist, they can numb your lips so that the dermal filler injections associated with lip contouring are pain free! In other areas we apply a topical anaesthetic gel which numbs the skins surface before administering the dermal filler to make sure the procedure is as comfortable as possible.
Dermal Filler treatments available
At NW Smiles, we offer many types of dermal fillers. For example:
Restylane
Teosyal
Juvederm
The dentist will be able to advise which would be the best treatment to use for you.
Dermal Filler
How much will it cost?
At your free consultation the dentist will discuss your treatment plan and the amount of filler that you would need to get the best results. The costs will be confirmed at your consultation, and depends on the number of and depth of wrinkles you have.
How long do treatments take?
A filler treatment takes around 30-45 minutes.
Claim a £25 Voucher
Only available for New Patient Registrations. Can be used against Crowns, Fillings, Bridges and/or Root canal treatment.