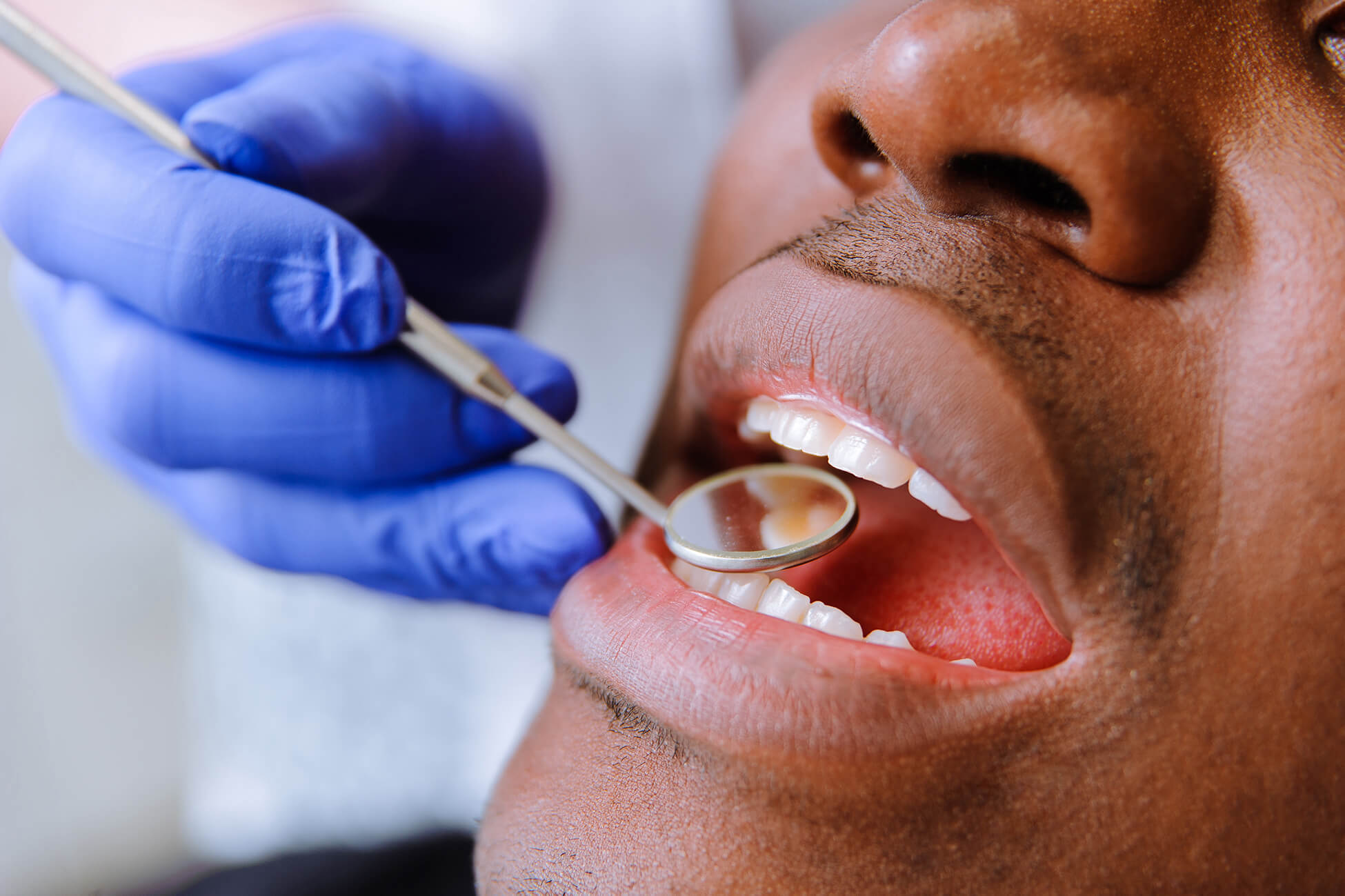 Nervous Patients
We understand that for some people attending a dental appointment can cause much anxiety. At SW Smiles we try our hardest to listen to your concerns and build your confidence, to enable a stress-free dental visit. Dr Anjali S-Rajah has a special interest in dealing with nervous patients, she studied psychology as an extra module during her dental studies.
Dental Crowns & Dental Bridges
If you have a weak or broken tooth, a dental crown (also known as a `cap') may be needed. It fits over the remaining part of the tooth, restoring the tooth to its former strength and natural shape. Dental crowns can be made of porcelain, and these look every bit as natural as the tooth it replaces. It leaves no black lines at the gum margin, as seen with traditional crowns.
If you have a/several teeth missing, there are several options for space replacement. The options are a fixed dental bridge; a removable partial denture, or a dental implant. All three will restore function and appearance.
A dental bridge uses one or both of the teeth on either side of the gap to replace the missing teeth. This is an ideal option when adjacent teeth have large restorations.
There are a wide variety of materials available for all dental crown and dental bridge work.
At the Battersea Dentist, all your options are discussed at the treatment-plan stage.
Dental Implants
Dental implants are titanium anchors (usually screw or cylinder shaped), which are placed into your jawbone. Dental implants are essentially a substitute for the tooth's natural root. The dental implant is left in-situ for several weeks to allow integration between the implant and the adjacent bone (known as osseo-integration).
Once the process is complete, the dental implants are restored with a dental crown or dental bridge on top. In cases where all or most of the teeth are missing in the upper/lower arch, several dental implants can be placed, and an implant-supported denture can be made.
There are several advantages of choosing implants over the other options:
They look, feel and function like natural teeth.
The adjacent teeth are not prepared/traumatised in any way when implants are placed.
Implants are easier to clean (they are cleaned like natural teeth) hence it is easier to maintain a good standard of oral hygiene.
Implants preserve bone, so the facial structures are prevented from collapsing and deteriorating- thereby preventing an `ageing' appearance.
Ultimately, implants feel so natural once placed, that any loss of self-esteem or self-confidence resulting from tooth loss, is completely restored.
All our implants are placed by our specialist Mr Harpal Chana, a leader in his field. He has a wealth of experience and expertise in implant placement and has been placing them for over 15 years.
Dentures
If you no longer have many or all of your teeth, you can benefit from having dentures. They provide support for your cheeks and lips. Without dentures to replace your teeth, facial muscles can sag and make you look older.
Dentures can be supported by your own tissues or can be made on implant screws. The advantage of implant-supported dentures, is they don't move. And they can't come out easily. The implants also help further in maintaining facial structure.
Root Canal Treatment (endodontics)
When tooth decay reaches the pulp/nerve of the tooth, it results in pain and sensitivity. If the tooth is left untreated, you can experience facial swelling in the adjacent area, called a 'fat-face'.
This pain is relieved by root canal treatment, which is often carried out over two visits. The first visit involves locating the pulp and the tooth roots. These are then cleaned and dressed. This first stage of the root canal treatment allows drainage of the infection over a period of a week.
On the second visit, the canals are widened, cleaned, dried. An inert rubber-based material is added, and a filling is placed on top. Usually the tooth will be crowned.
A root canal treatment is something many people fear. The plain fact is, good local anaesthesia techniques render the treatment painless. Naturally, it helps if your dentist has years of experience and is sympathetic!
The choice of a root canal treatment prevents the need for a dental implant or bridge. In cases, where the tooth is heavily restored and is broken down severely, it is not always possible to save the tooth through root canal therapy.
Jaw Joint Problems/Pain
Headaches and jaw pain are often caused by incorrect bite alignment or grinding your teeth (especially at nighttime). Both an incorrect bite and grinding your teeth place heavy pressure on the muscles of the temporal-mandibular jaw joint (TMJ). This pressure causes mild inflammation of the TMJ which is manifested by headaches and clicking jaw.
At SW Smiles, we can help to balance your bite and relieve any pain you may be experiencing, through various splint therapies. At your initial consultation we will diagnose your problem and arrange for a custom fitted splint to be made to remedy your condition.
Orthodontics
At SW Smiles we can straighten adults teeth using  invisible braces called Invisalign. These braces are removable so you can eat and drink easily and oral hygiene can be well maintained. There are no metal wires so they are comfortable to wear.
At the initial visit the dentist will carry out a thorough assessment to establish what type of treatment will best suit you for your teeth. Further information on all the different types of braces can be found on www.orthoclinicuk.com.
Claim a £25 Voucher
Only available for New Patient Registrations. Can be used against Crowns, Fillings, Bridges and/or Root canal treatment.